Located at the corner of Avenue Franklin Roosevelt and Avenue Depage, this large building designed by Adrien Blomme in 1928, housed his private apartments, offices and apartments for rent.
At the time, the project, was considered too modern and displeased the City of Brussels, which refused it. Adrien Blomme called on his mentors and famous architects Georges Hobé, Alexis Dumont, Victor Horta and Fernand Petit who had the project accepted!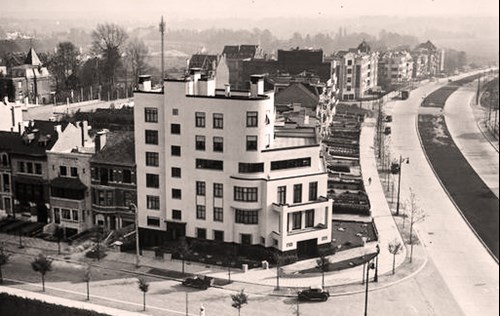 It was Blomme's third personal home and his last place of life and work, he died in 1940.
From that moment, Adrien Blomme's son, Yvan, had his architectural offices there. Two beautiful bas-reliefs by Ossip Zadkine representing the architect's tools adorn the front door on either side.
In 1964, the neighboring Université Libre de Bruxelles (ULB) bought the building to install the rectorate, and made many changes, mainly inside.