Jean-Jacques & Brigitte Evrard-Lauwereins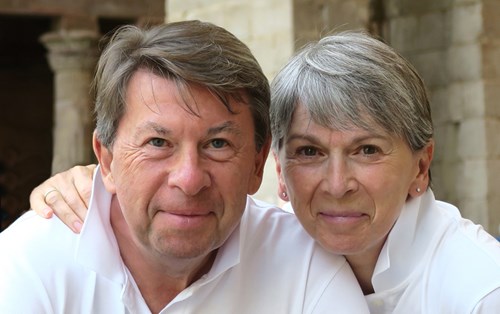 After studying graphics at the "75" in Woluwe-Saint-Lambert (Brussels), where they met, once graduated, Jean-Jacques and Brigitte Evrard-Lauwereins created their own design agency in 1976, which later specialized in packaging design. The small agency grew and in 1994 it joined the French group Carré Noir, then in 1998 the international design group BrandImage.
In 2007, after more than 30 years in the service of brands, they created the Pentawards, the first international competition devoted solely to packaging design which, in just a few years, has become the world benchmark.
After 10 years of intense activity around the world, they gave up the Pentawards to devote themselves to their passions, travel, art, design, Japan and architecture.
This site www.admirable-facades.brussels is their current commitment.
The idea for this site was born in the spring of 2020, during the first confinement imposed in Belgium by the pandemic due to Covid-19.
Admirables-Façades is the result of the work of two design enthusiasts, Jean Jacques and Brigitte Evrard-Lauwereins, Brussels residents at heart.
Seen as a whole, we cannot say that Brussels is a beautiful city, like Paris, London, Rome, Amsterdam or Madrid,… which all have their own and assertive architectural styles. In Brussels, few beautiful perspectives, no particular architectural style but rather an improbable, so surprising mixture of all the styles which have formed this exceptional heritage.
Capital of Belgium, this country created from scratch in 1831 to no longer serve as a battlefield for the European powers, Brussels has always been an important cultural crossroads. This great mix, combined with the spirit of independence and freedom specific to the Belgians, is part of the DNA of Brussels. Indeed, the Belgian wants to be nonconformist, free spirit and a little turbulent. So there is no question that his house is aligned with those next door, or even that it uses the same materials, and is, if possible, built in an architectural style opposite to the neighbors on the left and on the right. The result offers to curious eyes, sublime discoveries.
In architecture, Brussels is shy, modest, iconoclastic and daring, it hides its treasures. But the city is open to those who take the trouble to walk it, especially off the beaten track. In each of its 19 municipalities there are remarkable facades that are often hidden in less frequented streets.
Here, you will find them by chance by browsing them all, or by searching HERE according to your wishes.
Spanning a century of architecture, from the nascent Art Nouveau to the 1990s, more than 300 buildings are currently listed. Each with its address, its architect, the year of its construction and its position on the street map. And of course, with as many photos as possible.
The buildings available for visit are clearly indicated with a link to their reservation site.
So all you have to do is discover the most Admirable Facades in Brussels.
Good visit.