Located in the Marolles district, between rue Haute and rue Blaes, this working-class city which has 272 housing units was built by architect-urban planner Emile Hellemans between 1912 and 1915.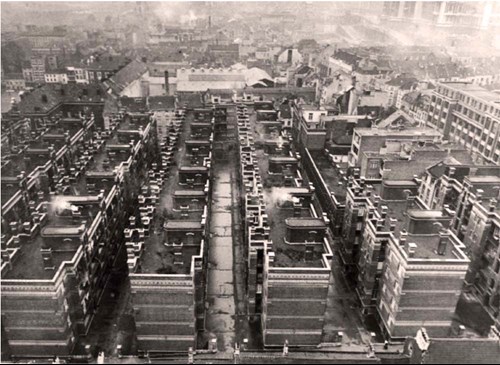 The total unsanitary neighborhood where poor families lived, in a total destitution, without any hygiene, was to give way in three years to this beautiful city where the inhabitants found affordable accommodation, equipped with running water, private toilets (a luxury at that time in this district) and a common laundry room.
The monumental ensemble is designed in an Eclectic style tinged with Art Nouveau, with a beautiful work of yellow and red bricks, and some gracious arcades that connect the different alleys.
The whole forms an exceptional testimony of workers' city in the town center.
The Cité Hellemans, which in turn became unsanitary and dilapidated in the 1970s to 1980s, was restored by the Region in the 2000s, giving it back its original appearance.
It is still a city with a social character today.