Created at the end of the endless North/South junction works, the Congress railway station was built between 1948 and 1952. The architect is Maxime Brunfaut, who completed the construction of the Central Station started with Victor Horta.
Maxime Brunfaut designed, for this station of a new era, a very modern, functionalist building, with an entrance visible from the Pacheco boulevard.
It consists of a ventilation tower made of a concrete framework, hard stone walls, brick trellises and beautiful bas-reliefs.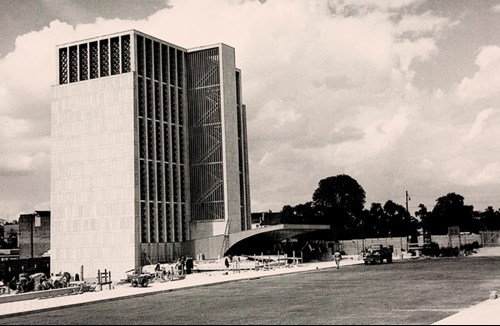 A second entrance is via the rue du Meiboom below.
Graffiti has horribly disfigured the two entrances for a few years!
Very beautiful bas-reliefs cover the side walls of the tower, made by the sculptors L. Dupont (facing south representing the junction, with St Michael the Archangel above the handshake), R. Delnest (facing the North representing the electrification of the rail) and J. Cantré (central panel representing the major cities of Belgium).