Right next to the magnificent van Eetvelde House, on the corner with Square Marie José, is an extension designed by Victor Horta in 1899 for the same client Edmond van Eetvelde.
The building has an elegant white carved stone facade adorned with window frames carved into basket handle shape typical of Horta. The entrance gate is also remarkable.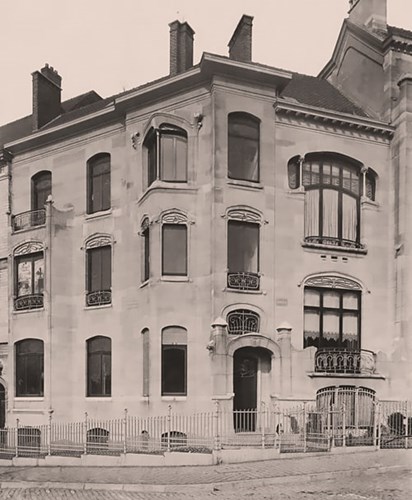 This building was three times threatened with destruction in 1936, 38 and 57 in order to construct a multi-apartment building.
It was finally saved in 1958 by Jean Delhaye (former employee of Horta), who after a request for destruction decided to set up his offices and live there with his family. The building was sold to the Economy chamber of Croatia in 2006.
Fortunately, the interior has been saved, furniture, fireplaces, banisters, everything has remained as it was.
Building classified in its entirety in June 1971.
The building is open to visitors on Saturdays, Sundays and Mondays, thanks to LAB·An, a space for the promotion of Art Nouveau founded on the occasion of the year Art Nouveau 2023. See website.