Located not far from the Tours & Taxi site, where goods arrived from all over the world, the BYRRH warehouses and offices were built by the Violet brothers between 1923 and 25, entrusting the design to French architect Anatole Laquerrière.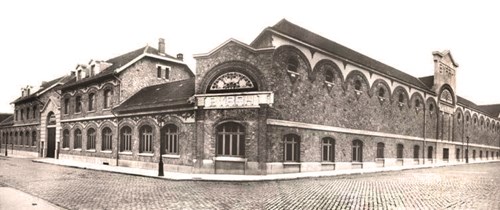 The wide façades housed storage warehouses, bottling workshops, and administration.
The style is Eclectic, inspired by the architecture of the French south-west Pyrenees, where the BYRRH aperitif brand originated.
The facades are clad in limestone, on a Belgian hard stone base.
Beautiful sgraffito with vine motifs adorn the top of the windows.
The main pediment majestically carries on its tympanum, the BYRRH brand, while the name of the founders appears in the stone just below.
The complex was operated until 1961, and then experienced quite a few misadventures, before being classified by Monuments et Sites in May 1997.
It has been restored and transformed into a business center.