Vast office complex and bank hall for the CGER, Caisse Générale d'Epargne et de Retraite (General Savings and Retirement Fund), built between 1947 and 53 by architect Alfred Chambon, son of Alban Chambon who already transformed, in 1910, the first buildings dating from 1893.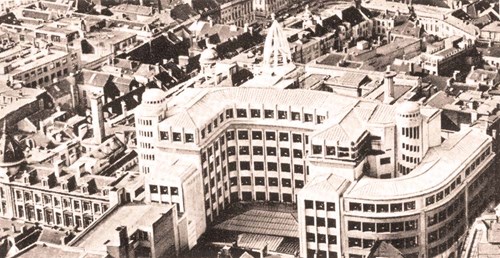 The "modern" part, carried out in the early 1950s, could be qualified as French neo-Art Deco. It reminds us of the Trocadero in Paris. The Chambon architects were of French origin.
The horseshoe plan of the central building is remarkable, as is the rounded part, clad in Congo copper, at the corner of Rue du Fossé aux Loups.
A superb bas-relief, "The Dance of the Four Seasons", sculpted by artist Oscar Jespers, surrounds the monumental portal on both sides. This one is triple opening in bronze, enhanced with enamels and exotic woods.
The complex has recently been transformed into offices, luxury apartments, a hotel, and a Food-Market has been installed in the former majestic bank hall.