The Citroën complex is arguably the most beautiful garage built by the brand abroad.
It was under the supervision of Citroën's official architect, the French M-J Ravazé, that Alexis Dumont and Marcel Van Goethem produced the plans for this monumental complex in 1933.
It included a luxurious showroom, construction and repair workshops, waiting lounges with newsstands, hairdressing salon, restaurant,… times have changed a lot.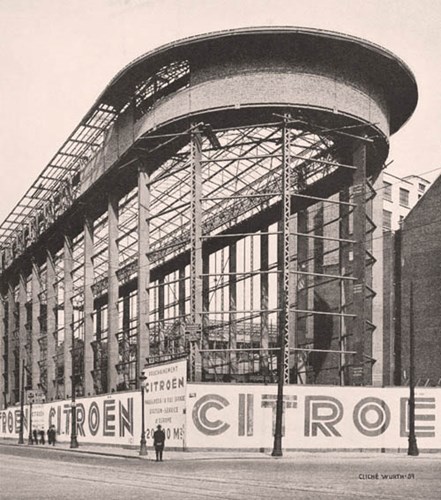 The most spectacular and iconic building is the nine-storey showroom located at the corner of the two streets. A true modernist-style cathedral, the building constructed of concrete, glass and steel, has an elongated nave terminated by a remarkable rotunda.
The architects had already designed ingenious night lighting that gave the whole thing even more magic.
All the buildings, after the departure of Citroën, were bought by the Brussels-Capital Region in 2015. A vast rehabilitation project is underway, for the transformation of the place into a contemporary art center in collaboration with the Centre Pompidou in Paris.
It already bears the name of Kanal-Center Pompidou, and will open in 2023.