In the excitement of the century turn, Brussels underwent major works to improve and organize trade.
The site of Tours & Taxis, well located along the canal, and near the very first train station in Brussels, was chosen to set up a series of remarkable buildings.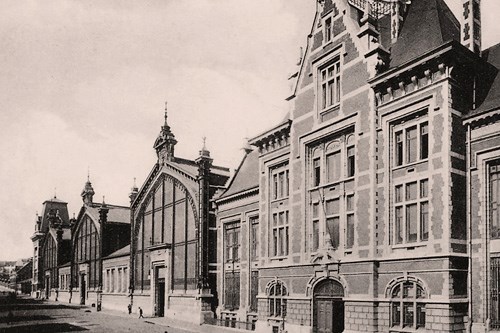 Next to the Royal Warehouse, the customs office, the Hôtel de la Poste, a new so-called maritime station was built on the plans of architects Constant Bosmans and Henri Vandeveld, in a style mixed with Art Nouveau and neo -Flemish Renaissance.
The architects here applied techniques based on the large steel structures in vogue at the end of the 19th century, which gave rise to immense spaces both in height and in width.
The huge station, 280 m long by 140 m wide and 24 m high, accommodated freight trains on the side tracks.
In the center a vast esplanade served as a loading and unloading platform directly between trains and horse-drawn transport vehicles.
It was inaugurated in 1910 by King Leopold II.
At the time, on the Tours & Taxis site, nearly 3,000 people worked, 1,400 wagons passed by per day, and goods were stored on nearly 240,000 m2.
The site, completely abandoned in the 1980s, following the opening of intra-European borders, remained empty and abandoned for a long time.
Since the 2000s, a vast restoration plan has saved these remains, witnesses of a progressive era. Today the Gare Maritime, like a phoenix, has found a second life, magnificently restored by property developer Extensa, and Dutch architecture office Neutelings Riedijk Architecten, who knew how to exploit these immense spaces by introducing wooden structures, magnificent and of exceptional ingenuity.