Remarkable survivor of an era that saw the birth of department stores.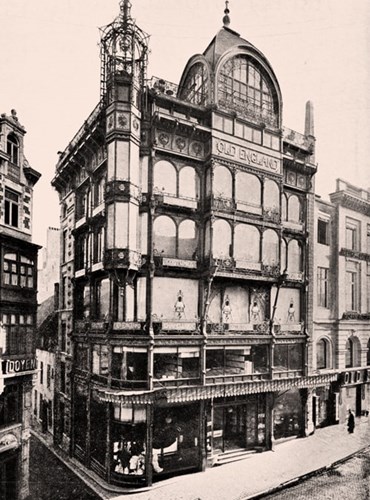 Like many others, it has known a few avatars before being saved from destruction in 1979.
The property has been classified since 1989.
Designed in 1898 by architect Paul Saintenoy, in the purest Art Nouveau style, it is entirely based on a metal and glass structure.
The architect imagined a facade adorned with extravagant ironwork, a corner turret to attract attention, and make customers dream. Curiously, the ironwork, said to be superfluous, was dismantled in 1938, the facade was simplified.
Abandoned in the 1970s, after the departure of the last occupant, an oriental carpet store, the building was bought by the State in 1979, which intended to install the Museum of Instruments (MIM) there. Heavy renovations have restored the building to its former glory.
Thanks to the installation of the instrumental museum, one can still admire the structures and murals that adorn the interior.
A must to visit, for the building and for the remarkable museum! To the museum website HERE