In 1952, architect Maxime Brunfaut drew up the plans for the new Sabena terminal in the city, opposite the central station.
Passengers could check in their baggage there and then go, through a tunnel connecting the terminal to the station opposite, to take a direct train to the National Airport.
This downtown terminal was operational in 1954.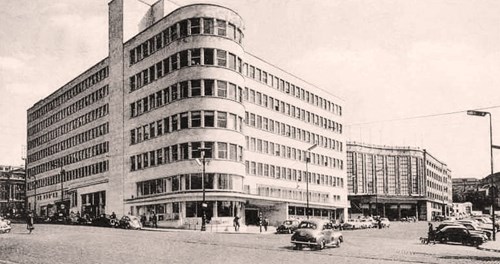 Unfortunately quickly fell into disuse, after the construction in 1958 of the brand new Zaventem terminal by the same architect, it was then occupied by Sabena's administrative services until 1994, then sold and transformed into offices.
A tavern still occupies the beautiful hall with its spiral staircase. The building nevertheless kept the pure and elegant lines very typical of the 1950s, with its beautiful glazed rotundas, and its vast interior spaces.
The whole is a very beautiful testimony of this time, the materials used having withstood the ravages of time.