One of the last surviving witness of a department store built in 1902 by Victor Horta for the Waucquez family, cloth merchants.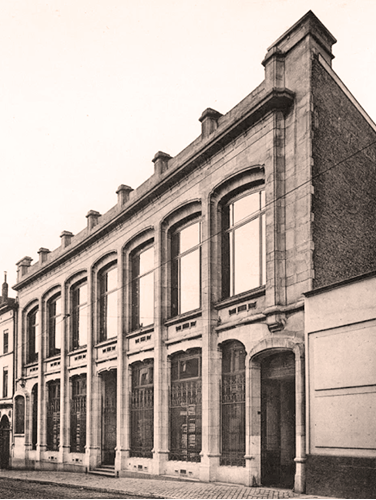 Beautiful building built across the width, with large bay windows framed with sculpted stones, of which Horta has the secret. Sober ironwork with palm leaf motifs protect the windows at street level.
Inside, the mezzanines and glass roofs illuminating the center of the building, recall the importance of the use of natural light for Horta.
Falling into disuse in the early 1970s, it was fortunately saved from destruction by a few Art Nouveau enthusiasts, including Jean Delhaye, a former collaborator of Horta.
Thanks to his intervention, the building was classified in 1975, pending a new assignment.
After the acquisition of the whole by the Belgian State, and pushed by a few other enthusiasts, the comic strip museum was established there in 1989, after heavy restoration work. The original essential ornaments and decorations have been preserved and restored with the greatest respect for the original designs.
The place is very easy to visit, since the Belgian Comic Strip Center (cbbd) is open to the general public.