Architect René Bragard, designed these two houses in 1925, the smaller of the two a few years later.
Little information is available on these constructions, which nevertheless deserve attention, for their originality.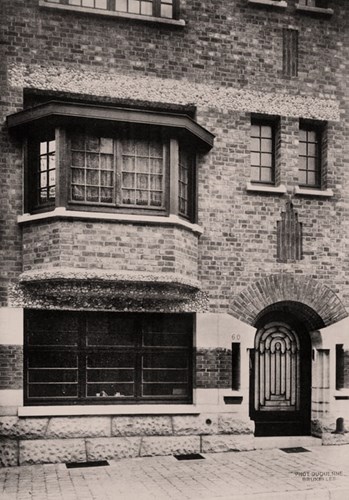 What characterizes these are the washed concrete lintels with large pebbles, which cross the two facades, down to the cornice, and give a somewhat industrial appearance to the buildings.
The garage doors have replaced the original windows on the ground floor.
An imposing front door marks the house on the left.
The architect obviously wanted to keep certain similarities between the two houses, bricks in orange tones, washed concrete lintels and windows with little woods.
The facades have been restored recently and are in excellent condition.
The Edmond Picard street also has some rather interesting facades, 7 of which are by the architect Fernand Petit. Note in the same area, at n°280 Rue Vanderkindere, René Bragard's personal house, of which only the mailbox and the street number caught our attention.