Monumental building, designed before World War II by architect Marcel Van Goethem, but built from 1948. The completion of the work took 10 years. The building, which is 200 m long, has a remarkable Modernist facade, made up of a large regular colonnade, softened on both sides by two rotundas decorated with two bronze statues of women resting on square columns. On the south side, a "seated woman", sculpted by Georges Grard, and at the other end a "kneeling girl" who has become the symbol of the National Bank , designed by Charles Leplae.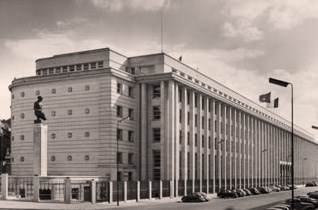 The side facades are also decorated with medallions representing coin effigies.
The central portal is decorated with three beautiful figures in aluminum created by Marcel Rau, a great creator of coin money.
The building caused a lot of controversy when it was created, considered pharaonic, due to its size and huge cost ... today it remains a strong symbol of Brussels. Since 2019, banknotes are no longer printed here.
The BNB is the administrative and national currency transfer, recycling and redistribution headquarters.