A bit atypical on the beautiful avenue Molière lined with mansions, this corner building designed in 1930 by young architect Joe Ramaekers is no less remarkable.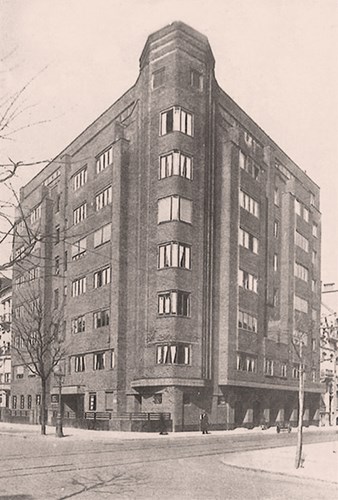 Strongly influenced by the Amsterdam School style, it spans 7 floors on either side of the polygonal corner "tower".
The facade presents a magnificent and elaborate masonry work.
The frames of the multiple windows were originally painted green, black and gold. The garage doors and the balustrades surrounding the garden have kept this green color.
The entrance hall (which can be visited at certain times of the year) is exceptional, made up of sets of bricks, green ceramics and various marble floors.
The glass fixtures are period.
The architect took great care in designing the doorbells, mailboxes and even the window of the concierge's lodge.
Thanks to subsidies from the Brussels Region and the will of the co-owners, the hall has been completely restored according to the original drawings.
The building has been classified since March 1995