Architect Henri Jacobs, who was the author of about fifteen schools in Brussels, drew up the plans for this school in 1903.
It is a large group of buildings linked together and overlooking two streets (Rue Josaphat & Rue de la Ruche).
The gymnasium a little further down the Josaphat street is one of them.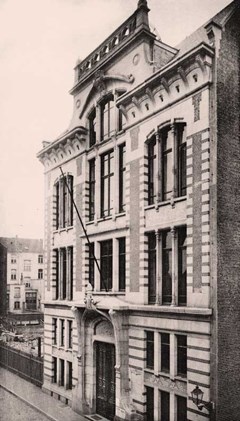 Jacobs created an Art Nouveau ensemble, which was called the "School Palace" so much the materials chosen, the decorations, the interior volumes, everything was carefully studied.
The interior courtyard is particularly spectacular.
The facade of the main school is still fairly classic with Art Nouveau elements, entrance gate, small window columns, cornices supported by molded stones.
Privat Livemont was in charge of the sgraffito both outside and inside.