There are few churches on the Admirable Façades site, this one caught our attention, for its style, but also for its special story.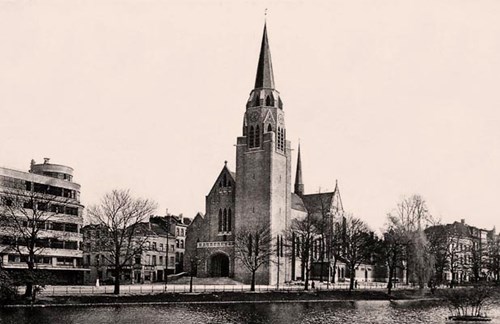 The Ste-Croix church is built on the site of a chapel dating from 1300, replaced in 1802 by a very 18th style century church, quite similar to the St-Pierre church in Uccle.
That church was demolished and replaced in 1865 by a neo-Gothic building designed by architect Van de Wiele, then re-built, we should say re-dressed, by architect Paul Rome in 1940.
He was the man who completed the gigantic construction of the Koekelberg Basilica, work of architect Van Huffel.
The Ste-Croix church is Art Deco style, mixed with modernism.
The notorious difference between the exterior and the interior is very surprising.
Indeed, the 1865 building had been built on very wet and unstable ground at the edge of the Ixelles ponds. It began to crack, and in 1940 it was decided to "re-dress" the entire exterior facade, a kind of shell in yellow bricks in order to consolidate the whole monument. The main façade, on the other hand, has been greatly modified, with its imposing bell tower moved to the right of the entrance, compared to the smaller and centered old tower.
Only concessions, the 6 confessionals are Art Deco style, as well as some altars. Stained glass date from the reconstruction and are works of famous artists Colpaert and Crespin.
To be discovered.