Vast and imposing group of buildings, including the magnificent Royal Depot, built between 1904 and 1907 to plans by architect Ernest Van Humbeek. The location was chosen for its immediate proximity to the canal, the Allée Verte station (the first 19th century Belgian railway station) and the city center.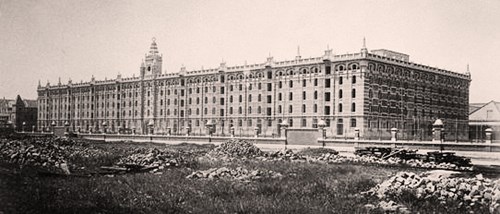 The complex includes a huge railway station, the Royal Warehouse dedicated to customs clearance of goods, and many other warehouses. Everything is intended for the reception, customs clearance and transfer of goods to their final destinations.
The buildings, built in an Eclectic Neo-Gothic style, have fortunately withstood time well, despite being abandoned since 1987, when the National Post office left the premises.
They have been masterfully restored and transformed into business centers, shops and restaurants. In 2021, a large part of the site is still under restoration, some warehouses have become high-end exhibition and event halls.
To discover the interior, just enter. But guided tours are organized. To the site HERE.