A superb example of the Amsterdam School style, this beautiful villa was designed in 1928 by architects Léon Emmanuel Govaerts and Alexis Van Vaerenbergh, for the couple David and Alice Van Buuren.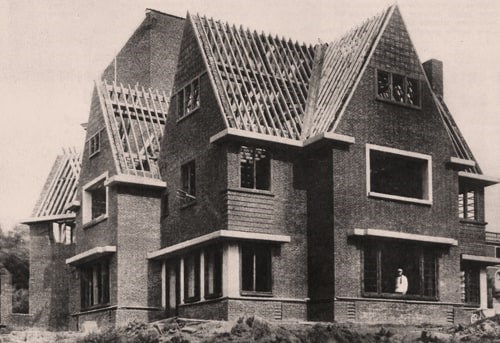 It became a museum in 1976, after the death and testamentary will of Alice Van Buuren. Giving us the great chance to visit this jewel, superbly preserved, and restored with the greatest care, in particular by Barbara Van der Wee, the architect expert in historic buildings, .
The Museum presents the house as if its owners still lived there, it is a living, vibrant house, filled with prodigious pieces of art and exceptional Art Deco furniture.
The owners called on the greatest craftsmen and artists to create all the furniture, wall decorations, lighting, rugs.
The remarkable stained glass windows typical of the Amsterdam School are an integral part of the house. The surrounding gardens are really worth a visit.
To be visited without delay! To the museum website HERE