At the corner of avenue Palmerston and Square Marie Louise, stands a beautiful mansion build by Victor Horta in 1895, commissioned by Edmond Van Eetvelde. He added two other buildings on nr 2 and an annex on nr 4, also designed by Horta in 1899.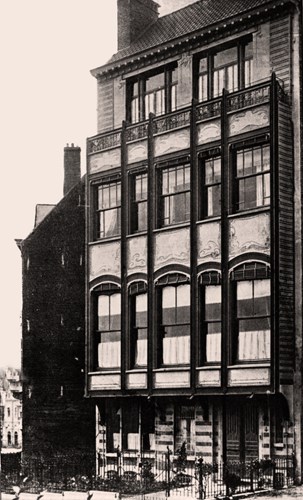 Edmond Van Eetvelde was then Secretary General of the Independent State of Congo. His family occupied it until 1920, after which it was inhabited for 30 years by the Pouppez de Kettenis family.
Sold in 1950 to FIDAZ (Federation of Gas Industry), which still owns the premises to this day. Converted into offices, the interior underwent many changes over the years, including the removal of the skylight above the winter garden.
This skylight was restored in 1988 by architects Barbara Van der Wee and Jean Delhaye.
The building was classified as a monument in 1976 and was inscribed on the UNESCO World Heritage List in 2000, along with two other monuments signed Horta. Since 2019, it has been in full restoration under the direction of Barbara Van der Wee.
The building can only be visited by reservation at certain times of the year.