Superb mansion, designed by architect Michel Polak, in the purest Art Deco style, built from 1931 to 1934.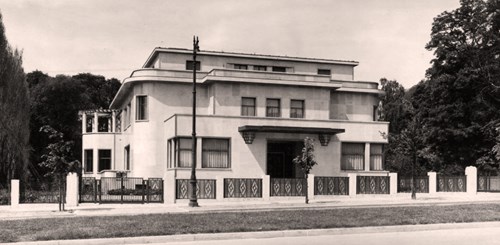 The client, Baron Louis Empain gave carte blanche to the architect who brought together the best craftsmen, choose the most beautiful materials, polished marble, precious wood, ironwork, which made it a major work.
The villa experienced various misfortunes over the years, it was occupied by the German army between 1940 and 45, then by the embassy of the USSR, to become the headquarters of RTL (Radio Télévision Luxembourg). Abandoned in the 2000s, vandalized and looted, it has been saved from shipwreck by the Royal Commission on Monuments and Sites in 2001.
Acquired in 2006 by the Boghossian Foundation, it was entirely and masterfully restored to its original condition and regained all its former splendor.
Building classified in its entirety since March 2007. The Foundation has been organizing numerous cultural activities and remarkable exhibitions since 2010.
This allows visitors to visit the interior of this admirable residence. To the site HERE