Rise and fall for this remarkable villa designed by Adrien Blomme in 1928 for Félicien Gosset (Heir to Tabacs Gosset), including a vast concierge house and stables.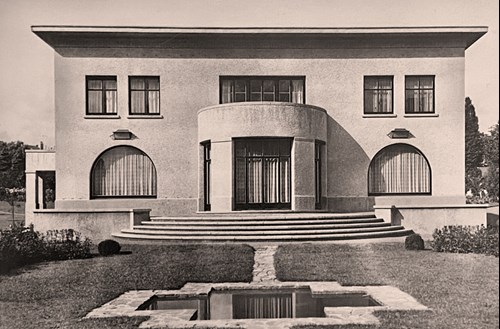 The main house is built around a vast staircase lit by a large window and a colored glass skylight.
All reception rooms communicate with each other by sliding doors, a house made for large parties! It was inhabited by the Gosset family until the end of the 1980s. At that time, Art Deco-modernist architecture was no longer very popular, and the building fell into oblivion, was abandoned, vandalized, looted, until the Royal Commission of Monuments and Sites began a classification procedure in 1993.
It was sold, and sold again until the last owners to date restored it, in accordance with Adrien Blomme's precepts, giving it back its former glory.
The house cannot be visited and is moreover quite difficult to observe from the street, hidden behind large hedges.
The whole, house, concierge house, garden and entrance gates have been classified since March 1994.